Moog Creates Control System for James Fisher Nuclear's Hydraulic Arm
When James Fisher Nuclear required a system to control the manipulator arm they had developed for nuclear decommissioning work, Moog Applications Engineers were engaged to deliver the required product performance and appropriate Moog control system.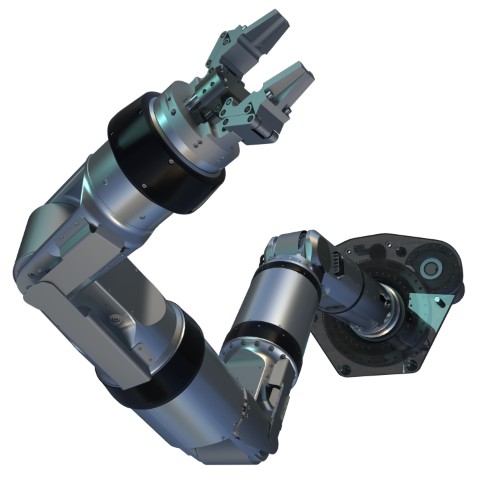 The Challenge

ModuMan had been designed by JFN around conventional hydraulic actuators. To ensure maximum maintainability, vital control elements needed to be located outside the operating cell. The 6-axis manipulator arm needed to be able to grasp and move materials weighing up to 100 kg, with a reach of 2.3 m through a 270 mm diameter access port in a radioactive environment.

The Solution
Moog delivered a control system comprising Moog Servo Controllers, Servo Drives and Motion Control software as well as modelling and simulation of the product design.

The Results
Moog's engineering knowledge, control software and servo controller technology ensured the manipulator arm could deliver a 6-axis solution with accurate motion.

• The Moog system enabled shoulder joint rotation of ±130º, Shoulder Pitch ±90 º, Elbow Pitch of ±130 º, Wrist Rotate ±130 º, Wrist Pitch ±130 º, Continuous Tool Rotate and End Effector grip width of 0-150 mm (0-5.9 in)
• The desired lift, manoeuvrability and reach capability were achieved.
• The project demonstrated a close and successful collaboration with James Fisher Nuclear and Moog Applications Engineers delivering a solution for an extreme environment.